Heraklion, Greece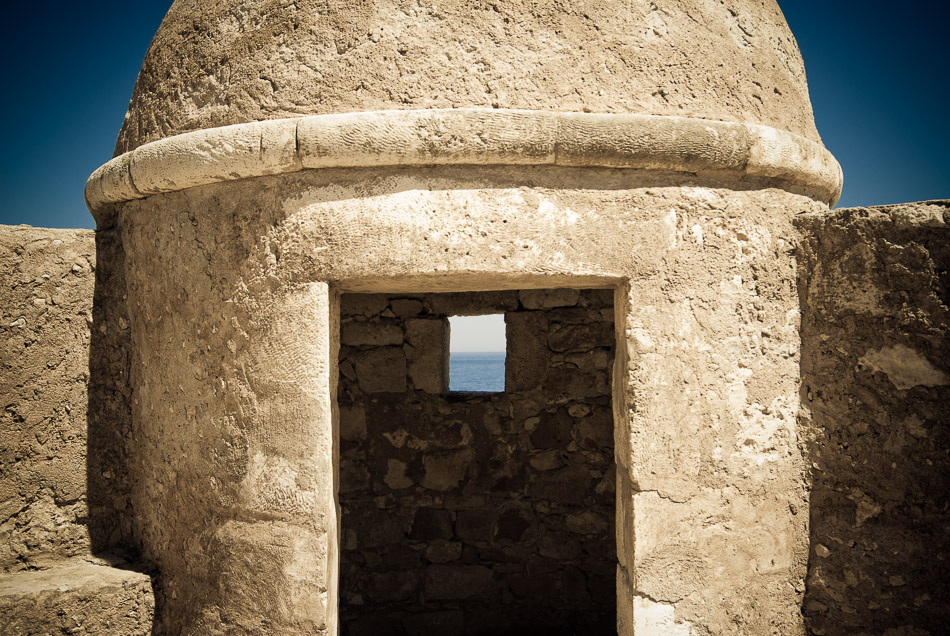 Trapped. Even before heading to the port, I realized the Aegean Sea was choppy. Things aren't helped by the enclosed decks and assigned seats of the high-speed ferries. But over the span of four hours, that rough ride would mean the people in the seats in front, to my right and behind me all needed multiple uses of their seasickness bags. Cue the clip from Wayne's World. The only saving grace was the window on my left and the distraction of soccer highlights on the big television.
After seven years of the magnetic pull of Santorini, I have finally pushed further south into the Aegean to visit the island I had intended to see so many years ago. But as the timing of my flight to Prague dictatates, it needs to be a quick trip. If there's sun in central Europe, I need to be there.
With its industrial and more gritty aesthetic, Crete moves at a pace far removed from Santorini. The walk from the ferry terminal to the bus station might as well have been a walk back to the heart of Athens. Gone are the idyllic whitewhashed walls, church bells and blue domes of Oia, traded for grafitti tags and murals, a busy Champion megastore and empty lots stacked high with tires and pallets, all set beside a noisy four-lane highway. I think back to 2004 and the parallels to transitioning out of the Greek bubble to the east in Kusadasi, Turkey. If only I could find an apple tea.
A bus takes me west to the city of Rhthymno, where I wander the tiny streets, fishing port and old fort. But the hostel is nearly empty and it doesn't seem like there's much worth staying for. A return to Heraklion looks like a good option. Back at the bus station and without a guidebook, I follow a group of backpackers to their hotel and spot a hostel along the way.
Needing only a bed and a meal before departure to Prague, my standards (and budget) are low. A visit to the archaelogy museum brings a fascinating look at thousands of years of Cretan and Minoan history. And the air conditioning is a nice treat. I eat at an outdoor cafe and dive into my guidebook with plans for tomorrow in Prague.