Paris, France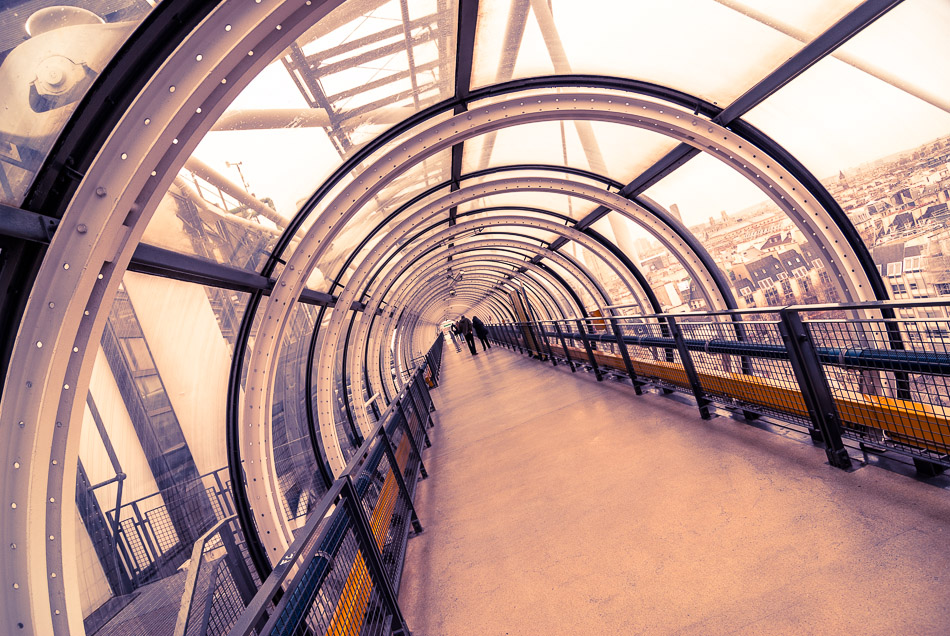 Years ago, before a trip to New York City, I read about Donald Judd's studio and efforts to preserve its contents and open it to visitors. Yesterday's New York Times has a beautifully written story about Judd (The Artist's Force Field, Frozen in Time), his work and those restoration efforts, now complete. Judd was a master artist and sculptor, whose pieces captivated me in my early exposure to modern art. Dan Flavin, who Judd admired enough to name a child after, is another, and is also featured in his studio.
One of the hallmarks of Judd's work is repeating forms — "his favored compositional approach of 'one thing after another'" — something that resonates with me, as I unconsciously seem to use in a lot of my photography.
This image is hardly carefully reductionist and minimal, as what defined the work of Judd and Flavin and an entire movement of art. In fact, it was just a casual capture as I was walking down this tube on the Centre Georges Pompidou's top level. But I like the repeating forms, both in the tube structure itself and in much of architecture of the facades of residential Paris, partially seen here. So today's image is dedicated to Donald Judd. And with it, a tour of his studio becomes another agenda item for my next trip to New York City.