Colleville-sur-Mer, France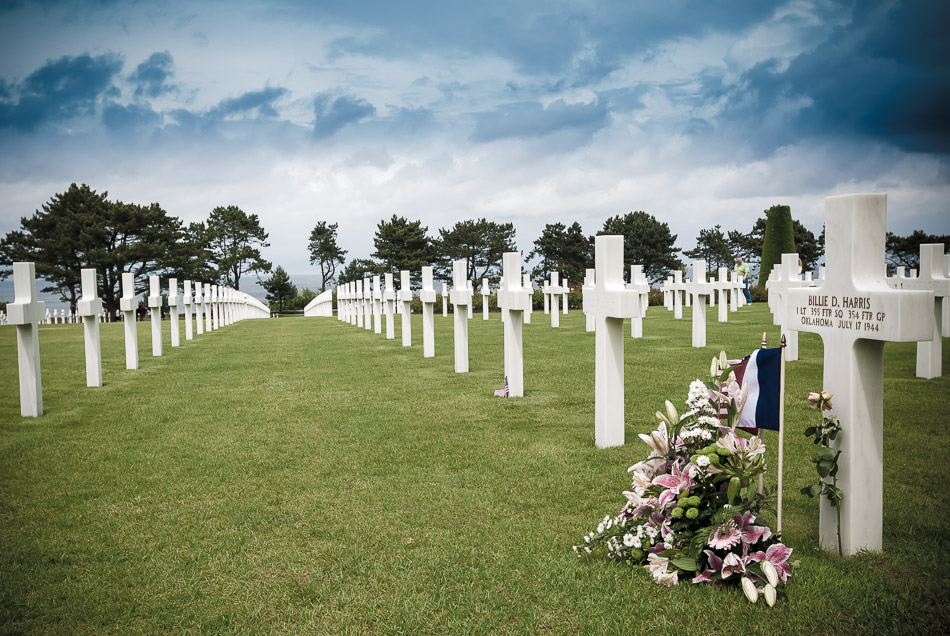 We were nearing the end of the tour, when the guide stopped walking. A few people opened umbrellas against the drizzling rain. The group gathered around her, leaning in to hear another story.
There was an American aviator named Billie Harris, shot down in July, 1944 on a mission over occupied France. He was alive when his plane hit the ground, and local villagers tried to save him. He didn't survive the crash, but villagers of Les Ventes went on to memorialize his efforts towards the liberation of France. There is a parade and a monument for the Allies. But there is special recognition for the aviator, with "Place Billie D Haris: Aviateur Americain," dedicated to the fighter pilot. Yet back in the US, his widow had no idea. She still couldn't get answers — decades after the war had ended — as to his exact fate. But in 2005, Mrs. Harris found that her husband was buried in the Colleville-sur-Mer cemetery.
Every year since her discovery, Mrs. Harris would send flowers for her husband's burial site — for Valentine's Day, their wedding anniversary, and more — 10 times a year. And the year prior, as the guide explained the story to her tour group, she produced a black and white photo of the fighter pilot and his bride, taken in 1944. They had been married 6 weeks before 1st Lieutenant Billie Harris was sent to war. A young girl, 7 or 8 years old, in that tour group looked at the photo. She then looked to an elderly woman standing nearby on the central east-west walkway for the cemetery. "Is that her?" asked the girl, pointing to the woman a few feet away. The woman was Mrs. Harris, who now makes a yearly trip to France to be at the Colleville-sur-Mer cemetery on June 6.
I was at the cemetery on June 5, when Steve Hartman of CBS News was filming this incredible story. His report aired that night, and again on Sunday, with a second installment. I saw his producer the next day, and sat with him on the train back to Paris a day after that. There are more details to the story. But you should watch both Part 1 and Part 2 of the story on CBS news, and see for yourself.
Steve Hartman told me that 2012 was going to be Mrs. Harris' final trip to Colleville-sur-Mer, 68 years after the Billie died. But today, approaching the 69th anniversary, I bet the flowers are still fresh.