Paris, France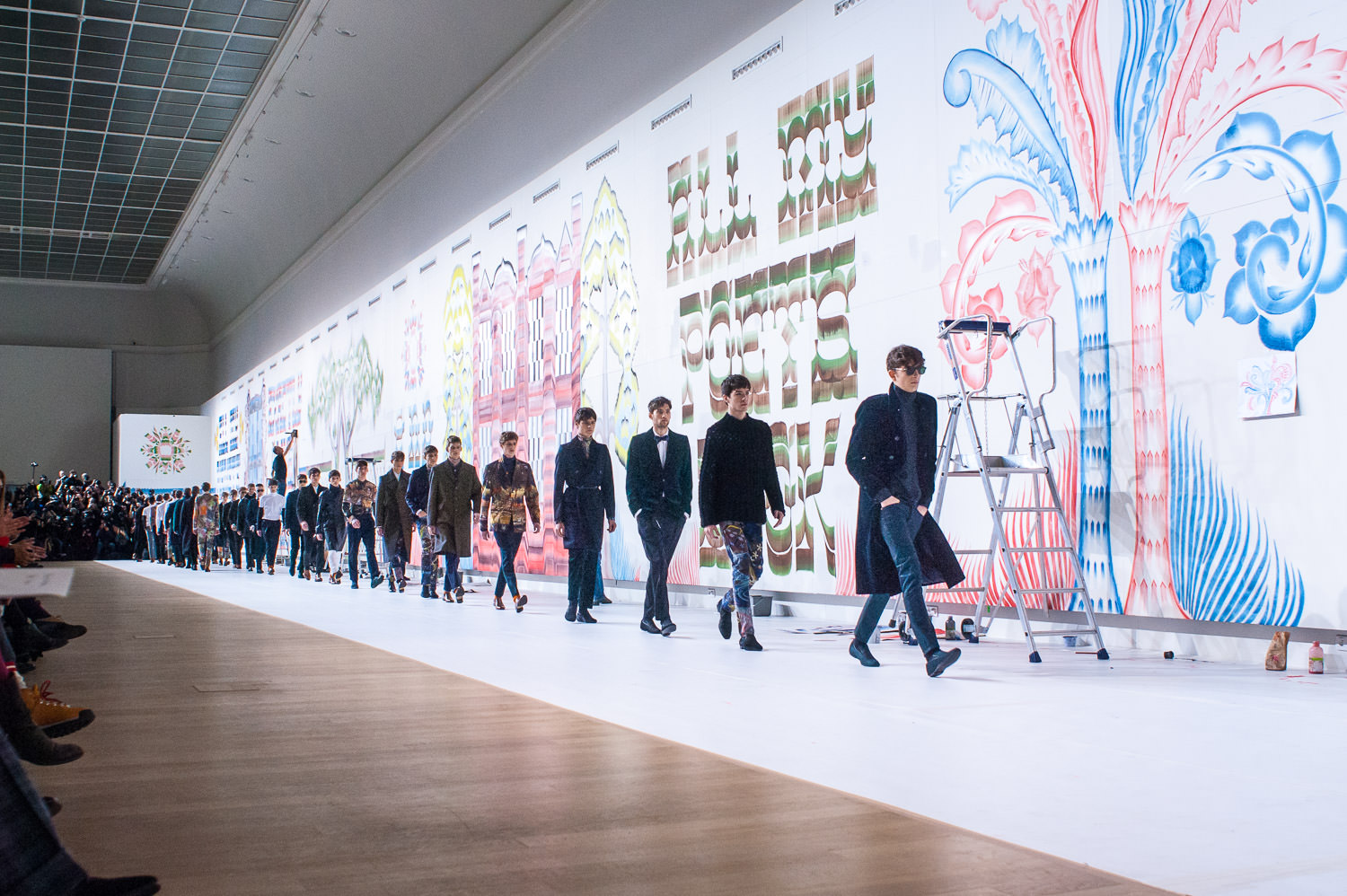 I've loved the art of fashion for a long time. I don't know exactly when or how it started, but it certainly swung into high gear with my first trip to Paris. It was February of 2000, and on my first voyage abroad, I discovered the Museum of Fashion and Textiles. Like after a lifetime of listening to baseball on the radio, then finally going to a game at a major league ballpark, it was a whole new world. Sketches, photos, fabrics, individual pieces, whole collections. From icons and upstarts. Contemporary and classic. The whole art form exploded in technicolour.
Fast forward to January, 2012. I was a more informed spectator, as any fan naturally becomes over the course of seasons and collections. I have my favourites, my likes, my loathes. I own a Gruau print. Yamamoto sketches. But only a few scattered pieces of clothing — my fandom isn't about filling my closet.
A few months prior, I had the incredible fortune of attending Savage Beauty on its closing weekend in New York. The retrospective of the recently-late Alexander McQueen was equal parts powerful and sad. Such epic talent. Such epic tragedy of a life cut short. But it had further primed me for the art and for my visit to Paris. I didn't realize when I booked my trip, but it was men's Fashion Week.
Tim Blanks had shown me the world of McQueen. The journalist, first as host of CBC's FashionFile, then as Editor of Style.com, brought smart and philosophical perspectives to the art, far beyond visceral aesthetics and literal interpretations. His was a literary fashion criticism — with depth and sophistication that was intensely interesting and fun to learn from.
So when I looked at the schedule of events on that January day, and saw Viktor & Rolf showing their collection just a few blocks from my rented apartment, my first thought was, "I'm going to meet Tim Blanks." I knew he was a fan of the Dutch designers and might be covering the collection. And I liked their work. I didn't know my odds of getting into the show, but my only investment was a 5 minute walk. I grabbed my gear, emailed a friend that I was going to meet Tim, and headed out into the cool morning.
I arrived to a spectacle. Cars unloading journalists and photographers, wildly dressed fans, people with clipboard-toting entourages. Paparazzi taking pictures of attendees outside, Paris' high society pages alive in front of me. I talked with the DJ of the show. Too-skinny models smoked on the steps. Flashes popped. And just minutes before showtime, Tim Blanks approached. We chatted briefly and I decided to stay to talk to him more after the show. It was classic fandom. But he was very nice and encouraged me to keep trying, despite no connection to the industry, to attend its pinnacle events.
My plans were thus set. I was going to give it a day's effort. It was the middle of the week and I was in Paris and needed something to do and so why not? I had to at least try. There were a dozen shows still to happen that day and I decided I was getting into at least one of them.
A few hours later, success. In his studio near the Centre Pompidou, I was in the front row for Yohji Yamamoto's Fall/Winter 2012 collection. It was an incredible show from the Japanese icon, whose framed sketches had adorned my walls for a decade. A quick Metro ride then brought me to the Grand Palais, for the show of Belgian designer Dries van Noten. He's been described as "one of fashion's most cerebral designers," and one of a select few who could (or would dare to) present in one of France's grandest buildings. I recognized people from the fashion world. I talked with Kathy Horyn from the New York Times at the top of the winding marble staircase. And I saw Tim again. "Well you couldn't have picked a better one," he said with a wry smile.
There were food and drinks on offer. Photographers crammed onto risers at the end of a long runway. And sprawling above the runway, painters on ladders were mixing colours and putting brushes to walls. Kaleidoscopic patterns and ornate trees and a verse from Oscar Wilde's Lord Arthur Savile's Crime and Other Stories. "All my pianists look exactly like poets, and all my poets look exactly like pianists." Half a dozen artists worked on various components of the mural.
And when some invisible cue prompted the audience to their seats, the painters kept working. It was silent, as hundreds watched the evolving walls of the Grand Palais. I was in the front row at the opposite end of the room from the photo pros. The music started. Frank Zappa — the height of psychedelia. Mixed with reading of Wilde's verses. Doors opened and models walked. Wild prints in perfect sync with the murals above the runway. Solid, rich colours. Luxurious outerwear. Wilde's verses printed on jackets and shirts. There were a lot of pieces, in a collection that ran about 10 minutes. It concluded with a return of all the models and closed with a wave from van Noten. The painters finally stopped, their mural as complete as it would get.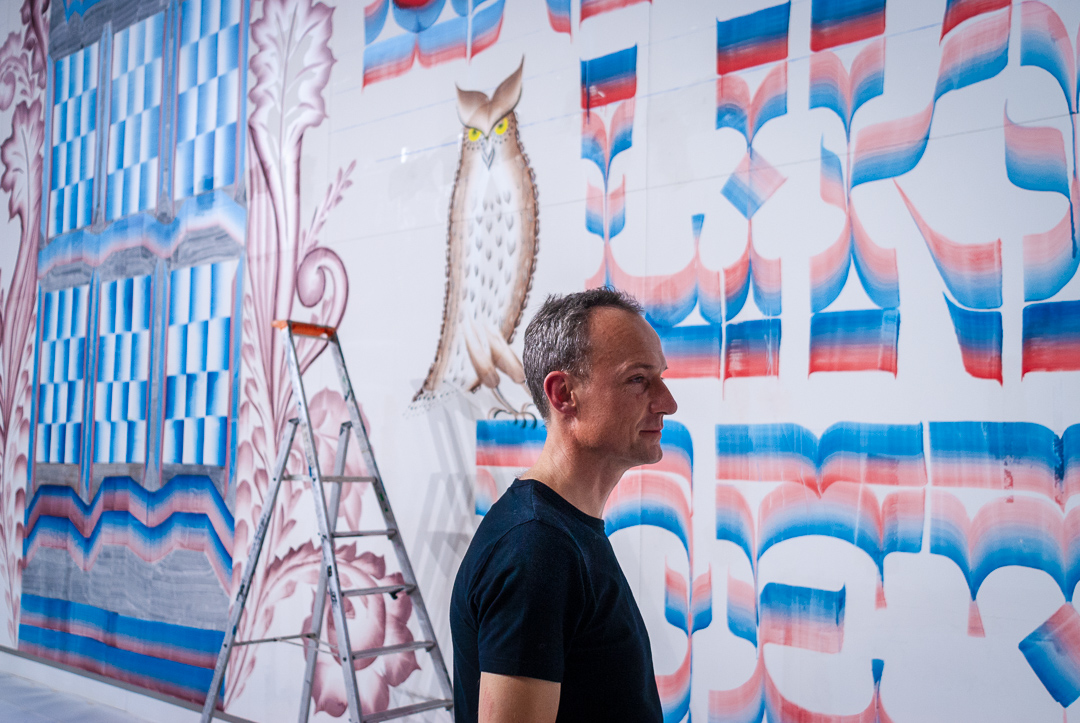 People idled and discussed. Praise was effusive. Superlatives abounded. Tim filmed interviews and commentary and Van Noten returned for photos and chatting. I spoke with one of the painters about the show and the intersection of the art forms. She was thrilled that people liked it and she gave me a part of the mural.
That morning, the closest I'd come to a runway show was watching videos online. Twelve hours later, I was walking out of the Grand Palais in Paris, having watched two collections by fashion's finest designers. From the front row.
There were more events the following days. And riding the Metro back to my apartment, I debating trying my luck. But time was limited. My Fall/Winter 2012 was already off to an amazing start.
Another perspective: Tim Blanks' reporting on the Dries van Noten Fall/Winter 2012 collection.