Santorini, Greece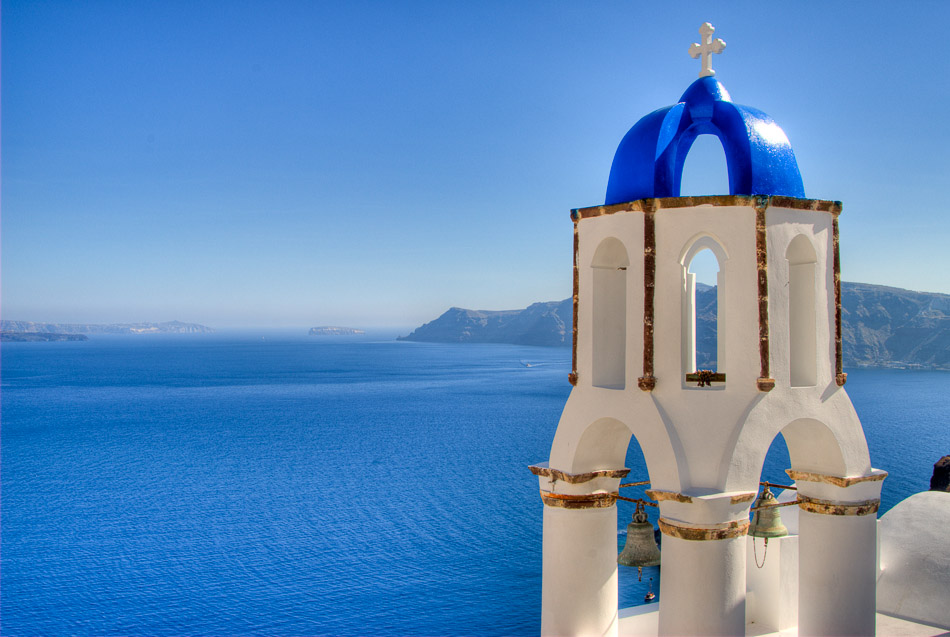 The glistening Aegean Sea is smooth as glass and on the approach to land in Santorini, the plane skims Kamari beach with its tavernas and cliffs and umbrellas and volcanic rocks. Home, sweet home.
I've come back to Santorini with the intent to spend the week. There's no pretending, this time, that I can escape its epic pull and visit other islands. Joining me for my week will be Karol and Neill, Irish and Scottish guys, respectively, who I met here last year. They will be flying in later today, at which point we will find a place to stay. The duration of their visits, however, is enough to make me want to burn my return plane ticket. Karol is spending a few weeks, Neill plans to stay at least a month. There is no hiding my jealousy.
I board the bus from the airport and wind my way toward the main town, Fira. It's warm. Dry. Wonderful. Fields of vines and white stuccoed houses pass by. I know the bus route enough to recognize the changes since last year. As a devout vagabond, I have an unrelenting passion for the new and undiscovered, but this island resonates on a different level. There is great comfort in the familiarity of Santorini. And the contrast with my past week of travel is compounded when I realize how happy I am to be out of Tunisia.
While interesting and distinct and certainly worthwhile, I'm content to have left its persistent air of edgy aggression behind. I won't miss the absolutely punishing heat, either. Although I already pine for the amazingly delicious Merguez (sausage) sandwiches.
Which is convenient because my first culinary destination is the infamous Lucky's Souvlaki, the gravitational center of my gyros universe. There are other gyros shops vying for supremacy, of course. And some, like a beachfront taverna at Kamari, even have offerings to brag about. A typical North American gyros is shaved from a Spam-like slab and has a quality somewhere between unedible and awful. But at Lucky's, even on a bad day (should such a thing exist here), the gyros creations are nothing short of sublime. What a rebound.